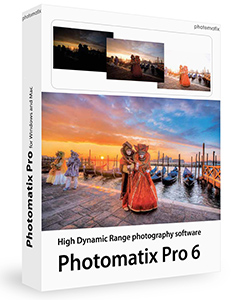 The boxed version of Photomatix Pro 6 is ideal for a gift. The box includes a CD-ROM with the Photomatix Pro 6 software for Windows and Mac, as well as a booklet with the Photomatix Pro user manual.
You can purchase the Photomatix Pro box from Amazon.com.
Important note:
Be aware of 'Open Box' Photomatix Pro items listed on Amazon. The genuine Photomatix Pro product is delivered in a box with a printed user manual. If it comes without a box, it is a counterfeit sold by a fraudulent seller.
If you check that the seller is "HDRsoft Ltd", you can be sure you will get the genuine product.
Notes on the boxed package:
The serial number is printed on the front cover of the user manual booklet included in the box.
The version on the CD is v6.0.1, and can be upgraded for free to the latest Photomatix Pro 6 sub release by downloading from our website.
The CD includes the Photomatix Plugin for Lightroom in addition to Photomatix Pro. It doesn't include the Batch Plugin for Lightroom, nor the Tone Mapping Plugin for Photoshop.