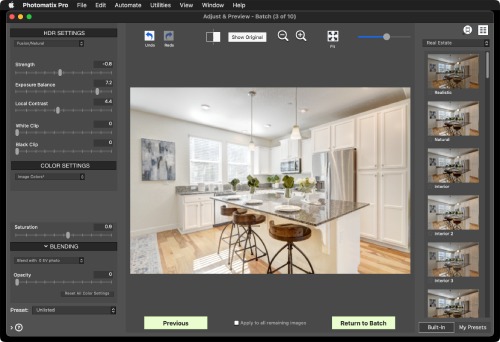 Batch with Preview
This interactive feature lets you see a preview of each HDR image before batching bracketed photos.
You can also adjust each image by applying a different preset or HDR settings. This is particularly useful when processing photos of scenes with varying lighting conditions.
Save Ghost Removal Mask
You can now save the areas you've marked for deghosting on the selective ghost removal window.
This is useful when you need to merge the same bracketed photos again. It also allows you to use the ghost removal mask for batching.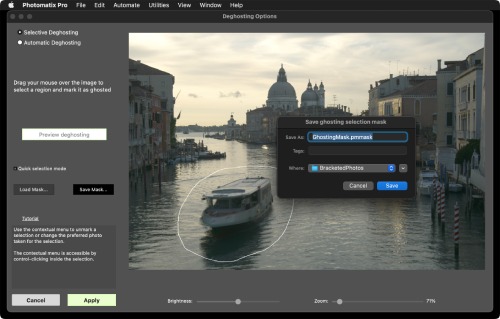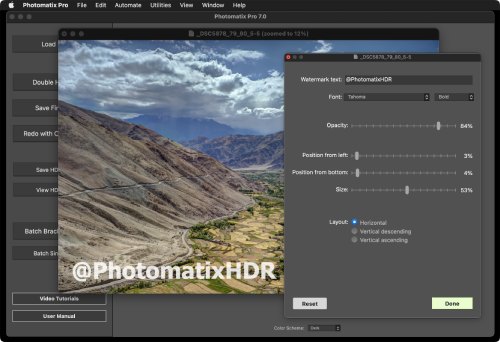 Custom Watermark Tool
You can now add your own text watermark to images with the new watermark tool, including options to select the font, size, layout, and position of the watermark.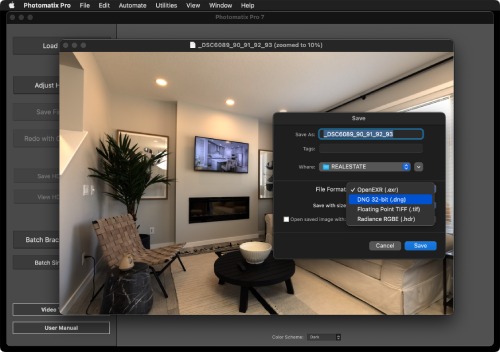 Save HDR Images as 32-Bit DNG
Version 7 adds the option to save HDR images in DNG format, including 32-bit DNG for the merged HDR image.
This lets you easily edit your HDR images further in Photoshop or other photo editing apps.
Try Photomatix Pro 7
The latest version of the software also adds support for numbers of new camera models and lenses.
Frequently Asked Questions
For customers who purchased a license of Photomatix Pro version 6 from HDRsoft or authorized resellers, the upgrade is free of charge.
You can upgrade from an earlier version of Photomatix Pro for US$29.
Please use this upgrade information page supplying your email address used to purchase the license.
You can use our upgrade information page supplying the email address you used to purchase the license.
If you don't recall what email address you used or don't have access to it any more, please contact our email support team.
Please contact our email support team mentioning your former email address and the license if available.
If you own a license for Photomatix Pro earlier than version 6 you can upgrade for US$29.
There are also cost-effective upgrade paths to Photomatix Pro 7 for other Photomatix products. Please contact our email support team for details on the product you own.
Please contact our email support team. Our support team is happy to help and reply to your questions.